BUCEO EN MANABí - FONDO AZUL BUCEO ECUADOR - VENAVENTOURS.COM
FONDO AZUL BUCEO ECUADOR
Español
.
English
.
DEPORTES EXTREMOS, Buceo en Puerto López, Manabí, Ecuador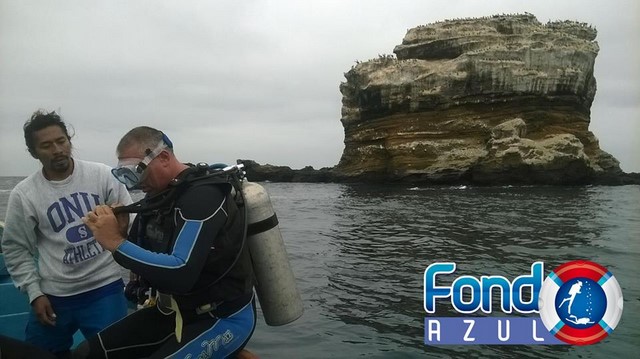 BLUE DIVING ECUADOR
Blue Background , diving Ecuador . Diving and snorkeling tours in the Machalila National Park in the best dive sites . We also offer PADI diving courses .
Blue is the only company background diving Puerto Lopez has certified native guides , which have more than 12 years of diving experience .
We are a tour operator that seeks to provide an excellent service where customers can enjoy the best diving experience in Puerto Lopez and its surroundings. We specialize in recreational diving , scientific diving and snorkeling industry . We also have extensive experience in conservation projects with several marine species in the area.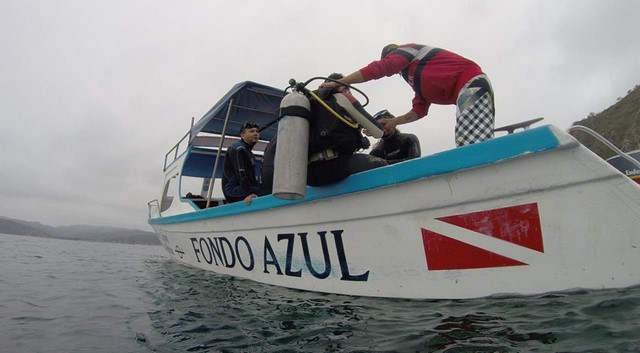 Courses Discovery Diving
The Discovery program is designed for those who do not have previous experience in diving who want to experience this activity without the need to obtain a certification. With this dive you will come into contact with the water and discover the seabed ! Who is this course for? The only requirement to make your diving Discovery is that you are older than 12 years . What will you learn during your dive Discovery? You will learn the basic guidelines and get the skills necessary to dive under the direct supervision of a PADI instructor skills.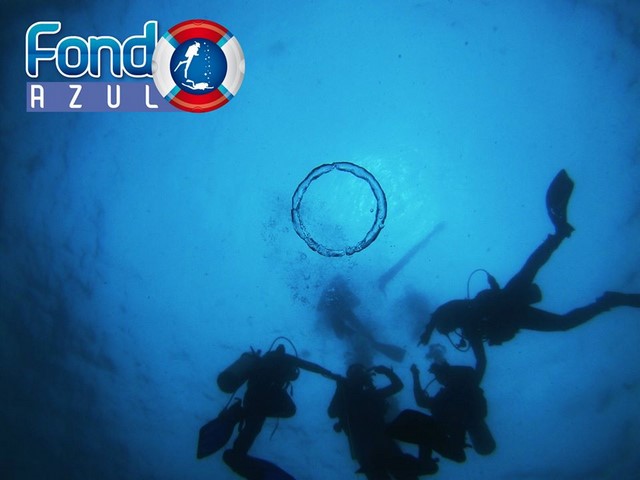 Discover what it's like to breathe underwater .
Learn basic exercises and safety rules when making your dives.
What diving equipment used for a Discovery? During your dive you will use the basic equipment consisting of fins , mask , console, scuba tank , wetsuit or wetsuit, buoyancy vest and weight belt.
SOLICITA TU PRESUPUESTO
52477
COMPARTA ESTE SITIO EN SUS REDES SOCIALES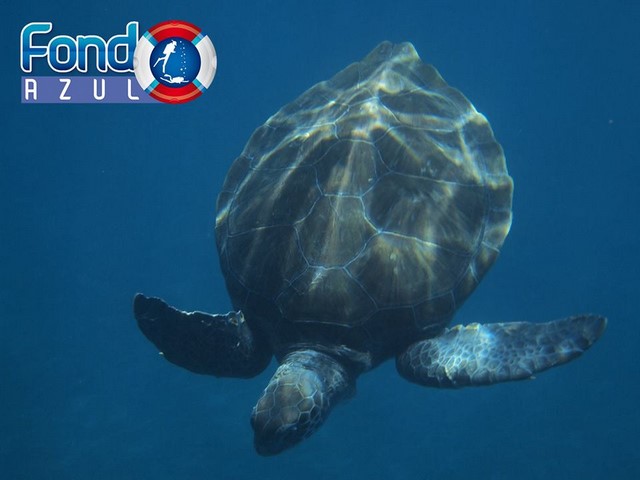 Courses for children - Bubblemaker
This is a perfect diving program for families who enjoy performing together filled activities adrenalina.¿Para who is this course for? Bubblemaker is as fun as it sounds, is a great opportunity for kids to blow bubbles underwater while diving with the native guides of Blue Background. Children who are 8 years or older can use scuba gear to breathe underwater and explore shallow water. Children should be comfortable in the water, but no previous experience is required or to swim. For children to perform this activity, it requires parental consent. What skills your child learn? In the Bubblemaker course, your child may:
Dive under the direct care and supervision of a PADI certified professional.

Breathe underwater in shallow water (up to 2 meters / 6 feet deep).

Learn about using diving equipment made especially for children.

Have lots of fun learning and closely watching many marine animals.
What diving equipment used during the Bubblemaker course? In this program, children will have a basic introduction to the proper use of diving equipment, such as cleaning the mask and regulator in the water, and a review of what to do and what not to breathe using diving equipment .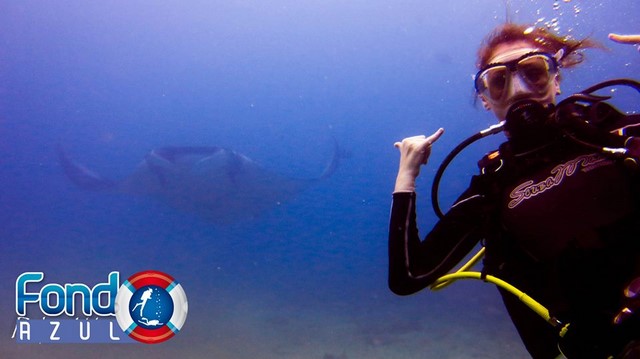 TOURS OFFER:
Scuba Devil Rays Giant manta rays (Manta birostris) is the largest species of stingray in the world, measuring up to eight meters !!! These are attracted by the abundance of food to the Ecuadorian coast in the months of June to October.

Spearfishing And Fishing Tour If you have always wanted to practice this wonderful sport, we wait with native guides Blue Background to know the best fishing spots outside the Machalilla National Park.

Day Tour Salango Island What animals can be seen in Salango? you can see several species of reef fish, flounders, eels, reef sharks and sharks mico, tight snapper, yellow snapper, sea bass, groupers, guayaipes, rays and sea bass.

Day Tour Punta Thick What animals can see in the Punta Thick? This area has large tracts of coral and sea fans, providing appropriate to form breeding of various species, in turn attracts large numbers of seabirds like blue-footed boobies, frigate birds and pelicans conditions.

Day Tour Isla De La Plata What animals you will see on the island of la Plata? The best season for diving on the island are the months from June to October, as you can see species such as manta rays, hammerhead sharks, reef sharks, mola mola fish, a large population of green turtles, reef fish.

Day Tour Islets Of Hanged What animals can see in the islets of the Hanged? They are two islands formed by volcanic rock, which according to village elders, was a place where Incas and rebels hanged at the time of the conquest.

Day Tour Punta Mala What you will see in Punta Mala? His name is given because of the giant waves (more than 5 meters) that in times of previously caused numerous accidents to craft artisanal fishermen.

Day tour Under the Copé What can be seen in the low COPE? This place has very beautiful stones full of life, a lot of corals and sea fans. During the months of June to October, Blue Background diving with stingrays guarantees.
Open Water Diver courses
If you've always wanted to learn to dive and discover the amazing underwater world, this is the first paso.¿Para who is this course for? To enter the program Open Water Diver Course PADI (OWD) must be over 10 years have adequate swimming skills, besides having a good physical condition. It does not require previous experience in buceo.¿Qué you will learn during your course OWD? This course provides the knowledge and skills required for certification PADI. It consists of 3 stages:
Development of knowledge: either online version or in a classroom where basic principles are explained diving.
A practice pool where the first exercises are performed with diving equipment.
Offshore practices to improve your skills (4 sessions).
What dive gear will learn to use during the OWD course? During this course you will learn to use basic scuba gear, which includes: mask, BCD vest, wetsuit or wetsuit, fins, console and oxygen tank.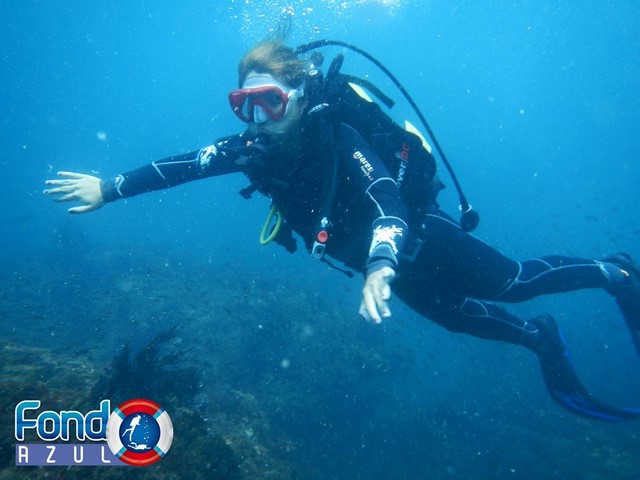 Advanced Open Water Diver courses
This is a practical course that will help you increase your confidence and develop new skills diving so you can feel more comfortable in the water. Who is this course for? The requirement for this course is to have completed your Open Water Diver Course ( OWD ) . For those children who are certified Junior Open Water Diver can take the course but can only participate in certain specialties buceo.¿Qué you will learn during this course? In this course you will improve your skills as a diver training using 3 of 5 different specialties diving . Specialties consist of 5 types of diving . Underwater navigation , deep diving , fish identification , wreck diving or night diving * Our customers have the ability to choose 3 of these 5 specialties to your preference for the course.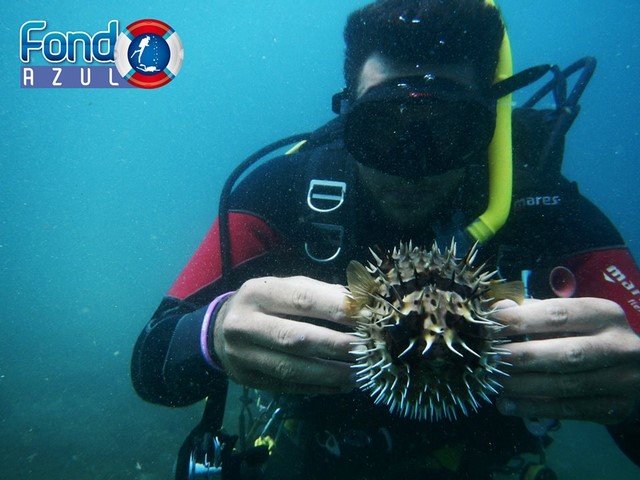 OFERTAS Y PROMOCIONES DE FONDO AZUL BUCEO ECUADOR
ESTAMOS AGREGANDO INFORMACIÓN A ESTA CATEGORÍA
RESTAURANTES, ARTISTAS Y ARTESANOS CERCANOS A FONDO AZUL BUCEO ECUADOR